Volk­swa­gen Group Chi­na has unveiled its first eVTOL pas­sen­ger drone pro­to­type since launch­ing a Ver­ti­cal Mobil­i­ty project in 2020 to explore the urban air mobil­i­ty (UAM) mar­ket and the exten­sion of urban traf­fic into air­space.
The VMO pro­to­type, nick­named the 'Fly­ing Tiger' due to its dis­tinc­tive black and gold liv­ery which was paint­ed to com­mem­o­rate its launch in the Year of the Tiger, is based on exist­ing autonomous dri­ving solu­tions and bat­tery tech­nol­o­gy for emis­sion-free mobil­i­ty.
With an x‑wing of 11.2m in length and a span width of 10.6m, it fea­tures eight rotors for ver­ti­cal lift and two pro­pellers for hor­i­zon­tal flight. The Group will con­duct sev­er­al flight tests lat­er this year to opti­mise the con­cept and an improved pro­to­type will under­go fur­ther advanced test flights by late sum­mer 2023. The ful­ly elec­tric and auto­mat­ed eVTOL could even­tu­al­ly car­ry four pas­sen­gers plus lug­gage over a dis­tance of up to 200 km.
Volk­swa­gen Group Chi­na CEO Dr Stephan Wöl­len­stein said: "We are bring­ing Volkswagen's long tra­di­tion of pre­ci­sion engi­neer­ing, design, and inno­va­tion to the next lev­el, by devel­op­ing a pre­mi­um prod­uct that will serve the ver­ti­cal mobil­i­ty needs of future tech-savvy Chi­nese cus­tomers.
"This is a pio­neer­ing project which our young team of Chi­nese experts start­ed from scratch, and they are work­ing with new design con­cepts and mate­ri­als while devel­op­ing new safe­ty stan­dards, dis­rupt­ing and inno­vat­ing every step of the way.
"The launch of VMO is the first of many mile­stones on our excit­ing jour­ney towards urban air trav­el, and our aim is to indus­tri­alise this con­cept and break new ground in this emerg­ing and fast-evolv­ing new mobil­i­ty mar­ket."
Volk­swa­gen Group Chi­na is rapid­ly expand­ing local R&D and soft­ware exper­tise to respond faster to what cus­tomers want and sig­nif­i­cant­ly accel­er­ate the pace of inno­va­tion.
The Ver­ti­cal Mobil­i­ty project team has been sup­port­ed by Chi­nese part­ners includ­ing Hunan Sun­ward Tech­nol­o­gy, which spe­cialis­es in avi­a­tion prod­uct devel­op­ment, and is a mar­ket leader in the light sport air­craft indus­try.
In the first phase of its com­mer­cial use, VMO is like­ly to be pitched as a pre­mi­um prod­uct for high-net worth tech-savvy Chi­nese cus­tomers, for exam­ple for VIP air shut­tle ser­vices, and Volk­swa­gen Group Chi­na will work with the rel­e­vant Chi­nese author­i­ties to achieve cer­ti­fi­ca­tion.
Last month, EHang entered into a strate­gic part­ner­ship with the Agri­cul­tur­al Bank of Chi­na (ABC) that includes cred­it facil­i­ties of RMB1 bil­lion, equiv­a­lent to around $150 mil­lion.
In Sep­tem­ber 2021, Volo­copter and Aerofu­gia, a sub­sidiary of China's inno­va­tion-dri­ven group, Geely Tech­nol­o­gy Group, announced a joint ven­ture com­pa­ny to intro­duce urban air mobil­i­ty in Chi­na.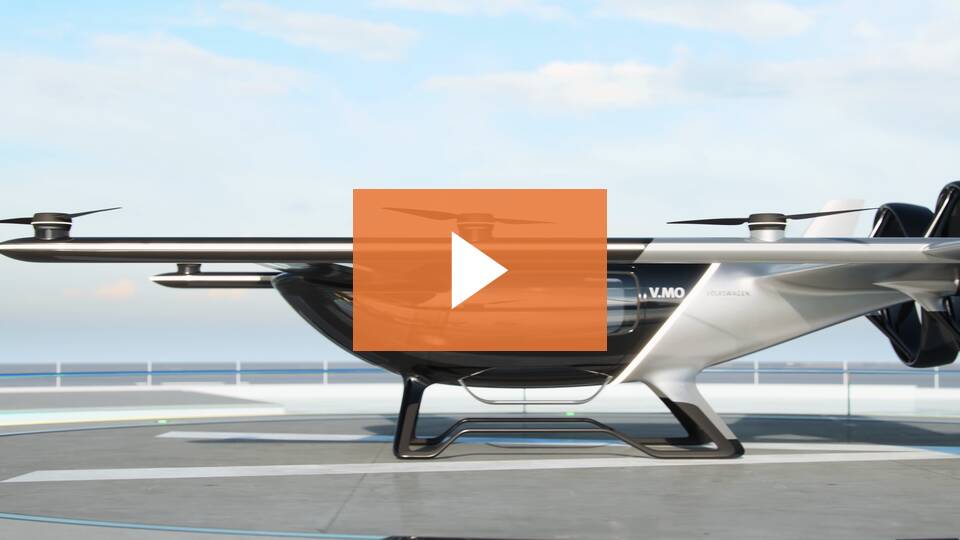 VW Group Chi­na V.MO eVTOL designed in col­lab­o­ra­tion with tan­ger­ine — tan­ger­ine